General Information
Date
14th to 19th June 2015
Transport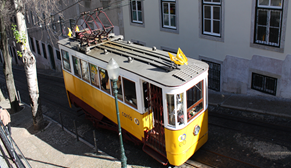 There are bus, train and subway stops only 5/10mins away from the Conference venue. Lisbon Airport is only 10mins by taxi or car journey and 15mins by bus.
Subway station: Oriente (Red Line)
Bus: 44 or 708
Train stations: Oriente

Climate & Clothing
Lisbon enjoys a Mediterranean climate. The typical summer's season lasts about five months, from May to September with an average temperature of 25°C (77°F). Light clothing is suitable for day time, and a light jacket may be useful for the night.
Congress Language
English.
Money and Credit Cards
The Portuguese currency is the Euro, "EUR = €." Notes come in denominations of €500, €200, €100, €50, €20, €10 and €5. Coins are in denominations of €2 and €1, and 50, 20, 10, 5, 2 and 1 cents. Major cards such as Visa, MasterCard, Eurocard and Maestro are widely accepted.
ATMs are widely available in Lisbon and most will accept cards tied into the Visa, Amex, MasterCard, Cirrus and Maestro systems. As a precaution, though, check that the appropriate logo is displayed on the ATM before inserting your card.
Smoking
Nationwide smoking ban in bars and restaurants.
Updated on 13/04/2015